Game creation contest
Big video game contest organised by MAGIC
For the third time, MAGIC comes back with a unique video game contest.
As you probably already figured out, at Shibuya we are truly passionate about video games. ,We believe that many current video game productions are too focused on esthetic and often have lacked of a truly interesting and exciting game-play. For us game-play is a fundamental part of enjoyable gaming. We can't help thinking about the old days when, not matter what the game, console, computer or arcade, we could play it over and over again, and still enjoy it every time.
Our goal is to encourage those SPECIAL FEW who put game-play in the center of their game creations.
If you want to participate to the contest, please fill out the form here and download the regulations HERE.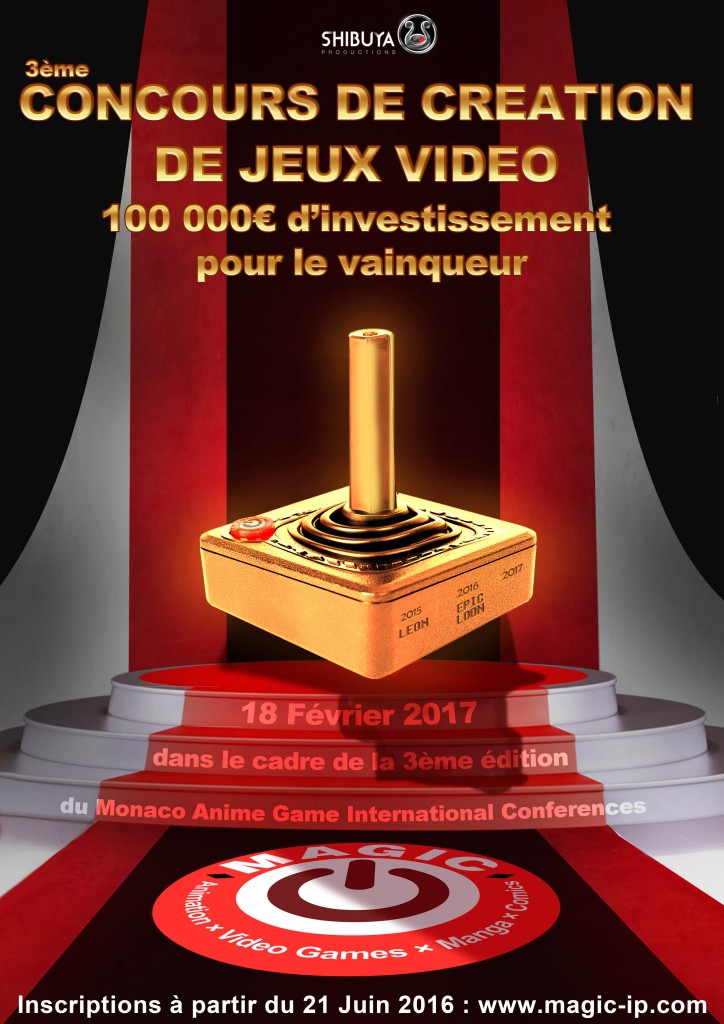 The contest will be held in the following format:
From 21th June to 1st October, 2016 : Registration
1st December, 2016 : Submission deadline
18th January, 2017 : Announcement of selected projects
18th February, 2017 : Jury deliberation and winner announcement
EPIC LOON winner of the game creation contest during MAGIC 2016
Congratulations to « Epic Loon », the big winner of the game creation contest during MAGIC 2016! They won the €100,000 investiment prize by Shibuya Productions.
Epic Loon is a cooperative and competitive party game with a plateformer core gameplay based on the laws of physics.
It'll be launched Q3 32017 on PC, MAC, Xbox One and PS4.
Epic Loon tells the subversive story of four proud aliens, newly landed on Earth in order to decimate its population, and who, by a combination of circumstances, find themselves stuck in the video recorder of Joe, 31 years old, professional nerd , bachelor living at his grandmother house, and having planned, on this beautiful evening of summer 1982, to eat chips watching his favorite VHS... Our four conquerors will journey from movies to movies, helpless and confused by these troubling scenes and hostile universes. They'll have to find a way of leaving, at any price...
The team: Maxence DEVOGHELAERE (game manager), Thomas DAIDE (Lead Artist), Christophe DA SILVA (Game Designer), Anthony LAURENT (Artist) and Matthieu RICHARD (Developer)
SwapTales: Léon ! winner of the game creation contest during MAGIC 2015
Léon! is the winner of the Monaco Anime Game International Conferences 2015 game creation contest! It is a game for kids starting 6 years old, to play alone or with mum or dad ! It is a kind of open and interactive book.
Play in cooperation with your child! Swap the words around in order to change what happens in the page, but also in the rest of the story and Leon's fate !
Smartly combine words on each page to help Léon progress in his adventure! On your way you'll come across numerous wordplays and surprising situations which lead to 17 different endings!